FINANCING AVAILABLE WITH PAYMENTS. NO INTEREST FOR 1 YEAR.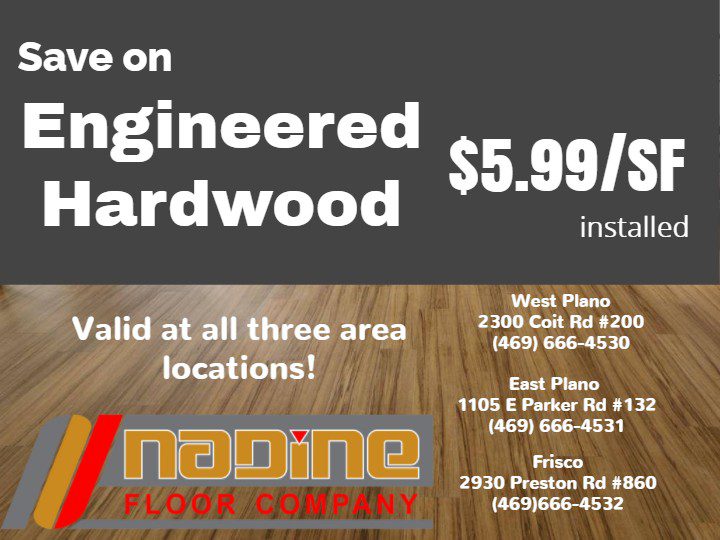 Best Hardwood Flooring Company in Plano, TX
Passion to Create
We are a value-driven family business, established on Honesty, Integrity and Respect. We are in business to provide you with the highest level of service, a broad, high-quality, selection at very competitive prices. We empower our staff, and management to better serve you. We strongly believe in giving back to our community, and strive to keep an excellent relationship with our surroundings.
Experience the Difference
Nadine Floor Company is your perfect choice for all your hardwood flooring and remodeling projects. Our collection offers exceptional value, elegance, and high quality products for your home designs; Modern, Eclectic or Traditional, We Have It All. Nadine Floor Company is where quality, honesty, and customer service come together, Experience the difference.
About Us
Superior Service & Professional Advice
You can trust our experienced staff to provide you with top quality service; from planning and inspiring design ideas, to selecting the right floor for your needs. We handle all the details–big or small–so you can focus on enjoying your beautiful new hardwood flooring.
Our Best Flooring Products and Installation Services
Our Plano, TX Remodeling Services
Kitchen Remodel
Kitchen remodeling requires expertise across many different disciplines, including tile laying, cabinet installing, electrical work, plumbing, carpentry, and a whole lot of other skills that our remodeling professionals are experienced in.
Bathroom Remodel
Whether it's options for flooring, cabinets, sinks, tubs, tub surrounds, lighting, or whatever else you might need, we've got a large selection to ensure you get the best finishes to make your bathroom beautiful and relaxing.
Shower Remodel
Are you looking to upgrade your old shower/tub combo? Our remodeling team will discuss in detail your expectations for your bathroom. We'll offer advice and suggestions along the way and we'll take care of all installation needs. 
Home Improvement
Call us for your next home improvement project. We offer flooring installation, countertop/backsplash installation, remodeling, and carpentry. Our work extends to the outdoor areas of your home as well.
"OUR ONLY MISSION AS A COMPANY, IS TO PROVIDE THE HIGHEST LEVEL OF CUSTOMER EXPERIENCE."
WEST PLANO LOCATION
Nadine Floor Company
2300 Coit Rd Suite 200
Plano, Texas 75075
EAST PLANO LOCATION
Nadine Floor Company
1105 E Parker Rd Suite 132
Plano, Texas 75074
FRISCO LOCATION
Nadine Floor Company
2930 Preston Rd Suite 860
Frisco, Texas 75034